Tee Worlds – Download :
First, "Tee Worlds" must be downloaded for the corresponding operating system. THEN "Tee Worlds" is unpacked into the desired DESTINATION ORDER and must then be started from THERE.
Tee Worlds" is available for the following operating systems.
Windows 7 / 8 / 10
Apple OS ( Mac OS )
Linux
Additionally you have to decide ( for the Linux version ), if you want to run the game in the system via
UNPACK and START
or else the game as
TO BE UNPACKED AND COMPILED
Download game version
Tee Worlds – Server Address :
After starting Tee Worlds you select "PLAY" and then the menu item "Enter Server Address". The PRIMARY server can be found at the following IP address :
82.165.247.194:12000
If the PRIMARY server should NOT be accessible, there is also the RESERVE server. This server runs under the following IP address :
93.90.207.244:12000
Currently, ONLY the IP address can be entered. "Tee Worlds" does not (yet) recognise a direct domain name.
You then connect directly to the T.S.A – "Tee Worlds" Game Server.

Information about the Game Tee Worlds :
"Tee Worlds" has been around since 2007, but similar to Tux Kart, the development came to a standstill at times. Fortunately a new development team was found.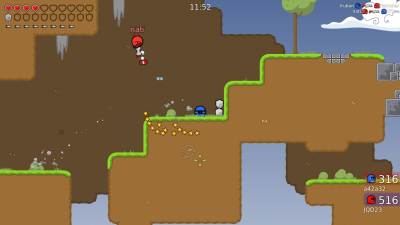 At the end of October 2018, the development of "Tee Worlds" has picked up again. From 2018 to now ( currently 2021 ) a continuous development can be observed.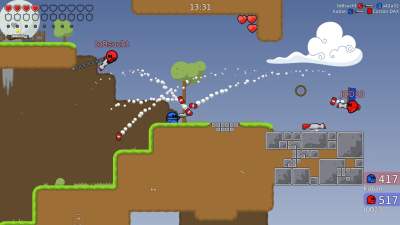 In Tee Worlds you play spherical creatures that mainly fight each other like in Counterstrike. The whole thing is displayed in 2D graphics instead of 3D graphics.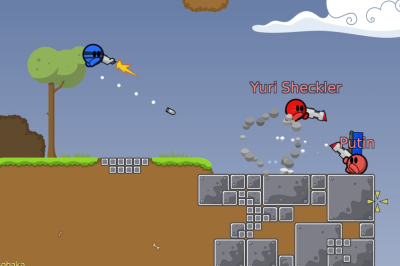 It takes time to learn the controls. Once you have understood the controls, it is a fast and above all fun game for in between.
There are 5 OFFICIAL modes in the game:
DM = Death Match.
TDM = Team Death Match.
LMS = Last Man Standing.
LTS = Last Team Standing.
CTF = Capture the Flag.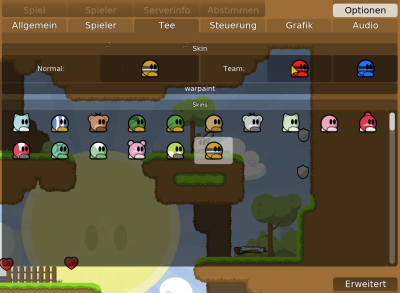 There are also, as in every good "shooter", a few useful weapons, shields and life energy that can give you a decisive advantage.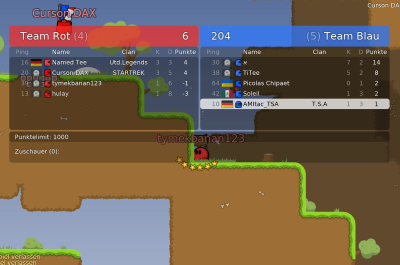 Weapons include the grenade launcher, laser cannon, hammer, shotgun and the rare but extremely dangerous Katana sword. However, you always start with a pistol.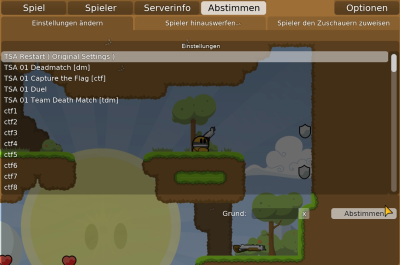 Just take a look at Tee Worlds. It is relatively small and runs also on older systems.

First Steps in Tee Worlds :
If you like first-person shooters and possibly some crazy action, then Tee Worlds might suit you.
First we start the game "Tee Worlds" and then select "PLAY" ( "SPIELEN" ).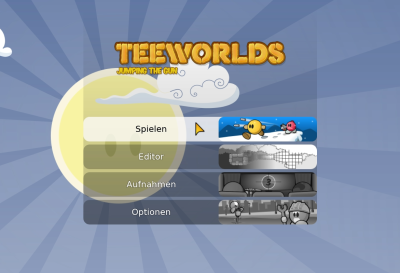 Then we are ready to enter the IP address of the T.S.A MAIN server.
We cannot ( yet ) provide the domain address in the version.
"Tee Worlds" HAUPT Server Adresse :
82.165.247.194:12000
If the T.S.A MAIN Server is NOT available, there is still the T.S.A RESERVE Server with the following IP :
93.90.207.244:12000